As part of the Unified Community Platform project, your wiki will be migrated to the new platform in the next few weeks. Read more here.
Fishing Barents Sea Wiki/Section 1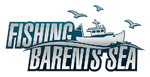 Welcome to the Official Fishing: Barents Sea Wiki
Welcome to the Fishing: Barents Sea Wiki Wiki
The Fishing: Barents Sea guide and compendium more written and maintained by the players.
Please feel free to contribute by creating new articles or expanding on existing ones.
About Fishing: Barents Sea
Take the helm of your very own fishing boat in Fishing: Barents Sea and explore the vastness of the Norwegian sea in search for the best fishing zones. Start with the little boat inherited from your grandfather, catch fish and earn money for upgrades as well as bigger and better boats. Enjoy the beautiful Barents Sea and make your fishing industry dreams come true.
Learn how to catch different kinds of fish with various fishing
equipment
on several different boats. Every method is easy to learn, but hard to master – time to show what you are made of!